Pimp my Castle: Castillo de Matrera
The Castle in Cádiz Before and After


Photos from The Guardian 
The renovation of this Andalusian fortress fell into the hands of local architect Carlos Quevedo Rojas, who received "Specific Education in Monument's Restoration" in Rome, Italy, which makes me wonder what exactly was taught in that class…
"And today, we'll be looking specifically at how one can just slab some cement over the problem."
The ruins dating from the 9th century had been crumbling and in an effort to keep the walls standing, these concrete additions were meant to recover volume and stability.  The castle was originally influenced by the Arabs, but seems to now be influenced by Brutalism, and yes, that is the actual name for an architectural movement which has been argued as being one of the most hated architectural styles.
AN ASIDE: Although I'm no architect, I do have one question–where did that tiny piece of 'original wall' come from?  The taller wall that has that bit that looks like it wasn't actually connected to anything and it seems like it was just put up there?  I don't see it in the original height of the building, so I'm wondering if they grabbed it from some of the fallen portions of the wall, or just wanted to add more cement.
 Some critics are claiming that this is in fact an act of brilliance.  These are most likely the exact same people who ended up supporting this other now-famous Spanish renovation: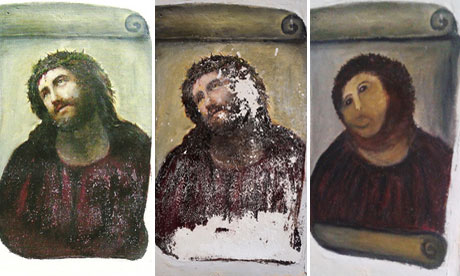 Left to right: original, before renovation, after the renovator gave up hope.  Photo from The Guardian
To be fair to the supporters, more tourists than ever are now making the trip to see the botched Ecce Homo, and believe that the castle renovation will create a spike in tourism to the Andalusian castle.  And, it would be unfair not to mention that the castle's block look is not completely the architect's fault.
Here's the Reality: every structural issue was resolved in the renovation project, they did their job.  The real problem it seems that people have with it is that it has a certain aesthetic quality that can only be described as 'wtf happened?'
And that answer lies in Article 20 of the Historical Heritage law.  This law in Spain prohibits imitative reconstructions, and thus forced Carlos Quevedo to turn to material that would be completely distinct from the original.  It is meant to defend the original integrity of the work in question and it would be considered a kind of dishonesty to have similar materials used in renovation projects.  As of March 11, the Regional Government of Andalusia stated in an article by Larua Garofano for El Mundo, that "oficialmente no hemos recibido ni una queja" [officially, we haven't received any complaints], referring to this renovation.
If you are feeling particularly offended by the renovation and would like to submit an official complaint online, brush up on your Spanish and you can go here.
Either way, it's clear that this won't be the end of 'interesting' renovations from Spain. I'm sure we're all looking forward to their next meme–I mean, project.  Maybe they'll decide to 'renovate' the Cave of Altamira by letting loose primary school children with finger paint to make sure the materials used aren't at all like the original…
Sources not in order:
¿Es el Castillo de Matrera una nueva chapuza en restauración?
Cádiz Castle Restoration: Interesting Interpretation or Harmful to Heritage?
Our Readers Respond: The Cadiz Castle Renovation is, in fact, Good
'What the hell have they done?' Spanish castle restoration mocked
Spain's concrete castle: a case of accidental genius?
'What a blunder': No magic in Spanish castle restoration